Justin Bieber has teamed up with a choir of nurses, doctors and other NHS staff to record a Christmas single.
The Lewisham and Greenwich NHS choir have added their voices to a remix of the star's single Holy, which reached number seven in October.
The charity collaboration comes five years after the two acts were locked in a battle for the Christmas number one.
Bieber eventually threw his weight behind the choir's efforts, leading them to clinch the festive top spot.
Afterwards, Bieber said: "I was honoured to meet everyone from the choir and I'm really happy that they got their number one."
Their new charity single is also aiming for Christmas number one, with proceeds to be split between NHS Charities Together, which represents more than 230 NHS charities, and the Lewisham and Greenwich NHS Trust Charity.
Bieber said he was "humbled to team up" with the singers.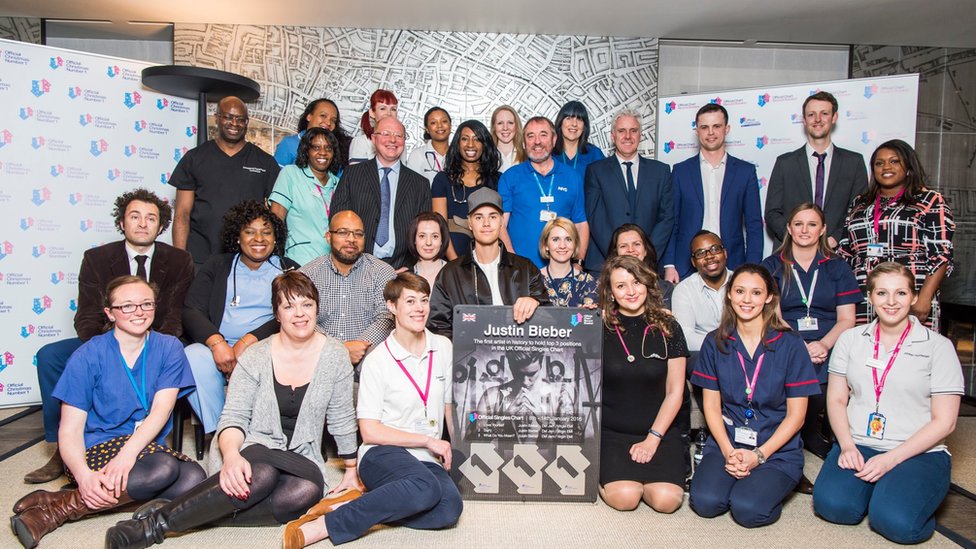 Choir member Pamela Lutalo, who worked on a 30-bed Covid ward this year, said Holy was "a song of appreciation to families, friends, colleagues and community who have provided encouragement and support to people during the pandemic".
Mike Corr, a former immunisation clinical co-ordinator, added: "The message that holding someone is such a special thing that it's almost a holy experience is so resonant with current difficulties and personal challenges.
"There are some special people I miss terribly and I hear them say, 'Hold me, hold me,' when all this is over."