Sharon Osbourne has issued an apology for comments she made about racism while defending Piers Morgan on her US chat show The Talk.
The star was one of the first people to voice support for Morgan after he left Good Morning Britain over his criticism of Meghan, the Duchess of Sussex.
On Wednesday, she angrily challenged her Talk co-host Sheryl Underwood to identify when Morgan had been racist.
But she has now said she "panicked, felt blindsided [and]got defensive".
Osbourne's statement followed criticism on social media that she had appeared to belittle a black woman's experiences of, and perspective on, racism.
In Friday's statement, she apologised to "anyone of colour that I offended and/or to anyone that feels confused, or let down by what I said". She explained that she had "allowed my fear and horror of being accused of being racist take over".
Morgan himself was not impressed. "Sharon's been shamed and bullied into apologising for defending me against colleagues accusing me of racism because I don't believe Meghan Markle," he tweeted.
"I demand an apology from those @TheTalkCBS bullies for their disgraceful slurs against ME."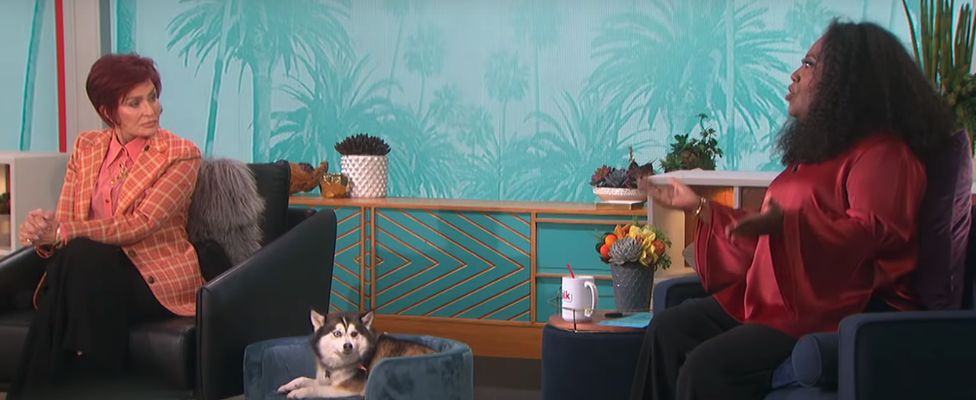 The row began when Osbourne spoke in defence of Morgan, her former colleague on America's Got Talent, after he left Good Morning Britain on Tuesday.
"@piersmorgan I am with you. I stand by you," she tweeted. "People forget that you're paid for your opinion and that you're just speaking your truth."
When Underwood raised the tweet with her on Wednesday's episode of The Talk, Osbourne said: "I feel like I'm about to be put in the electric chair because I have a friend who many people think is racist, so that makes me a racist."
"For me at 68 years of age to have to turn around and say, 'I ain't racist', what's it got to do with me? How can I be racist about anybody… or anything in my life?"
As she grew increasingly frustrated, her language was bleeped out and Underwood took the programme to a commercial break.
When they returned, Osbourne tearfully asked Underwood in a raised voice: "I will ask you again Sheryl… And don't try and cry because if anyone should be crying, it should be me… Where you have heard him say racist things? Educate me. Tell me."
Underwood replied: "It is not the exact words of racism, it's the implication and the reaction to it.
"To not want to address that because she is a black woman, and to try to dismiss it or to make it seem less than what it is, that's what makes it racist."
She added that Osbourne was her friend, and she didn't think of her as racist.
"I think it's too late, I think that seed's already sown," Osbourne said.
'Gaslighting'
The clip circulated widely on social media. "This is Sharon Osbourne, telling a black woman not to cry and demanding a definition of racism, as she sobs over Piers Morgan who walked off his job bc [because]a mixed black coworker calmly challenged his fixation on Meghan Markle," comedian Rae Sanni wrote.
"No one should be surprised by Sharon Osbourne's behaviour," added pop culture commentator Shar Joseell. "She has been consistently loud in her willful stupidity (about race) throughout the years.
"The public gaslighting might be a new lil twist tho."
In her lengthy apology, Osbourne referred to her original tweet about Morgan, saying: "Please hear me when I say I do not condone racism, misogyny or bullying. I should have always have been more specific about that in my tweet.
"I will always support freedom of speech, but now I see how I unintentionally didn't make that clear distinction.
"I hope we can collectively continue to learn from each other and from ourselves so we can all continue to pave the way for much-needed growth and change."
Separately, Morgan thanked the 200,000 people who have signed a petition calling for his return to Good Morning Britain, but said he wouldn't be coming back.
"Normally, people start petitions to have me fired or deported, so this is a pleasant surprise," he said.
His former co-presenter Alex Beresford, whose on-air criticism caused Morgan to storm off the show hours before he announced his permanent departure on Tuesday, has also addressed the matter for the first time.
"I didn't want him to quit, but I did want him to listen," he wrote on Twitter. "Over the last few years, Piers and I have had a lively, cheeky on-air relationship.
"We both wanted to be on the show on Tuesday morning, and, from our very public conversations on Twitter, we both knew how strongly our opinions differed on the treatment of Harry and Meghan pre and post the interview that has split the world.
"I hoped we could reach a place of understanding. It's sad that we weren't able to get there, but challenging his opinion was not an outrage. On this occasion, we have to agree to disagree."
He concluded by praising the presenter: "Personally, Piers has always supported my growth. He's given me advice on several occasions and for that I am grateful. I wish him well."