Four people are to go on trial in France over an August 2015 plot to attack Americans on a high-speed train.
Ayoub El-Khazzani is accused of opening fire on board a train travelling from Amsterdam to Paris, three months before the Paris attacks.
Two people were wounded before he was overpowered by passengers.
No-one died in the incident, which inspired a Clint Eastwood thriller The 15:17 to Paris.
Three others are suspected of helping Mr El-Khazzani plan the attack. Bilal Chatra, Mohamed Bakkali and Redouane Sebbar face lesser charges than the alleged gunman. These include conspiring with terrorists and complicity in attempted murder.
Mr El-Khazzani, meanwhile, could face life in prison if found guilty of attempted murder as part of a terrorist enterprise and conspiracy to commit terrorist crime. During an initial hearing he told the judge that the Paris attacks' organiser Abdelhamid Abaaoud had ordered his attack, according to news agency AFP.
Dozens of people have been called as witnesses in the trial, following a four-year investigation. Eastwood, 90, is himself believed to have been called as an expert witness and material from his film could reportedly be shown during the proceedings.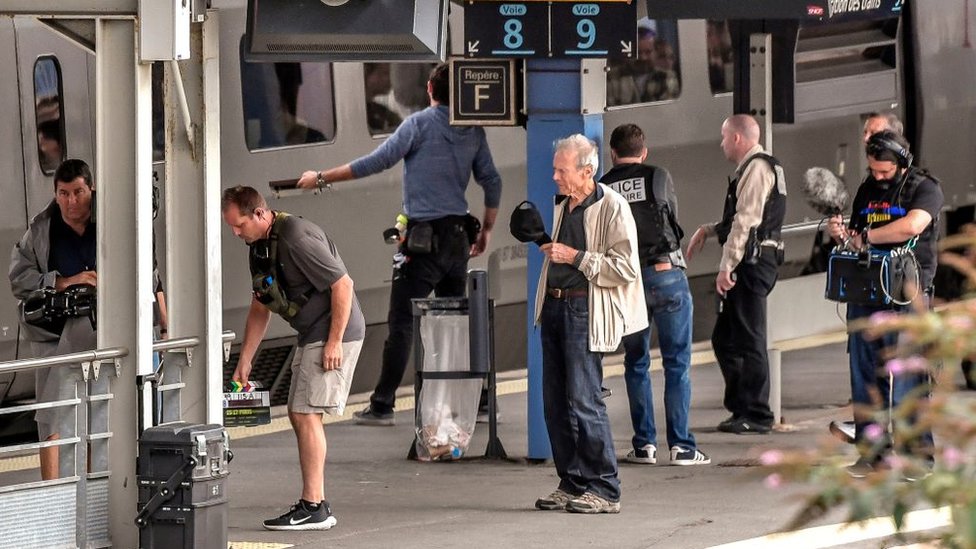 Ayoub El-Khazzani, a Moroccan national who fought for Islamic State (IS) militants in Syria, told the earlier hearing attended by AFP that Abaaoud had said he should target Americans: "He told me the best way of carrying out my mission was to use explosives. But I said I preferred a Kalashnikov." The pair allegedly travelled to Europe from Syria and stayed together in Brussels.
He is then said to have boarded the train at Brussels Midi station on 21 August 2015 armed with a Kalashnikov assault rifle, 270 rounds of ammunition a pistol, a bottle of petrol, a box-cutter and a hammer.
Prosecutors say that he then launched his attack intending to carry out mass slaughter.
Four passengers tackled the attacker, including two off-duty American servicemen, as the train passed the French town of Oignies. The French president at the time, François Hollande, personally awarded all four with France's top honour, the Légion d'honneur.
The suspect later told a judge he could not have killed anyone, he was quoted as saying by France Inter. "I had two weapons on me. Inside I was a psychological wreck, but at the last minute I just couldn't do it."
He is also said to have told the judge that, having seen what had happened in Syria since he had been in custody, he regretted his failure to kill anyone.
The trial is expected to conclude on 18 December.