China's ruling Communist Party has set in motion a controversial national security law for Hong Kong, a move seen as a major blow to the city's freedoms.
The law to ban "treason, secession, sedition and subversion" could bypass Hong Kong's lawmakers.
Critics say Beijing is breaking its promise to allow Hong Kong freedoms not seen elsewhere in China.
Pro-democracy activists have called for mass protests against what they see erosion of Hong Kong's autonomy.
Anger was already apparent on Friday, as a group of protesters descended on China's Liaison Office in Hong Kong.
The draft law was submitted at the annual National People's Congress (NPC), which largely rubber-stamps decisions already taken by the Communist leadership, but is still the most important political event of the year.
Hong Kong, a semi-autonomous region and an economic powerhouse, was always meant to have introduced a security legislation after the handover from British control to Chinese rule in 1997.
After last year's wave of sustained and violent protest, Beijing is now attempting to push them through, arguing "law-based and forceful measures" must be taken to "prevent, stop and punish" such protests in the future.
On Friday, Hong Kong's government said it would co-operate with Beijing to enact the law, adding it would not affect the city's freedoms.
The law has rattled financial markets, causing Hong Kong's Hang Seng Index (HSI) to drop by more than 5% on Friday.
What is in Beijing's proposed law?
The "draft decision" – as it is known before approval by the NPC – was explained by Wang Chen, vice-chairman of the Standing Committee of the NPC.
It consists of an introduction and seven articles. Article 4 may prove the most controversial.
That article says Hong Kong "must improve" national security, before adding: "When needed, relevant national security organs of the Central People's Government will set up agencies in Hong Kong to fulfil relevant duties to safeguard national security in accordance with the law."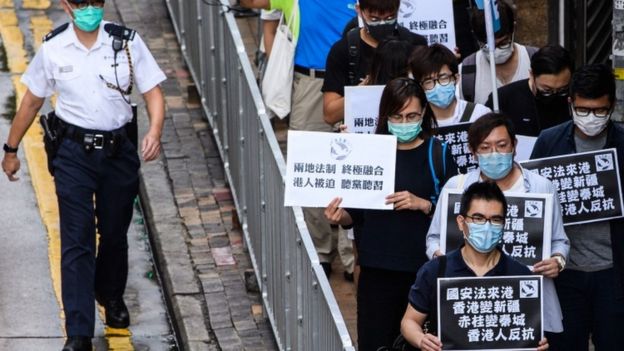 Addressing the congress, Premier Li Keqiang said: "We'll establish sound legal systems and enforcement mechanisms for safeguarding national security in the two Special Administrative Regions."
Hong Kong's leader Carrie Lam, who is seen as part of the pro-Beijing political establishment, said the law would help authorities tackle illegal activity in the city.