Italy's prime minister has told the BBC that the European Union risks failing as a project in the coronavirus crisis.
Giuseppe Conte says the EU must act in an adequate and co-ordinated way to help countries worst hit by the virus.
Mr Conte says the European Union needs to rise to the challenge of what he calls "the biggest test since the Second World War".
This was his first interview with the UK broadcast media since the pandemic exploded in Italy seven weeks ago.
He was speaking as Italy and some other EU countries try to push more frugal members of the bloc to issue so-called "corona bonds" – sharing debt that all EU nations would help to pay off. The Netherlands in particular has opposed the idea, leading to a clash between finance ministers of the eurozone.
The Italian prime minister told the BBC that Europe's leaders were "facing an appointment with history" that they could not miss.
"If we do not seize the opportunity to put new life into the European project, the risk of failure is real."
The infection rate in Italy is slowing – the latest figures show positive cases increasing from the previous day by a little over 1%. Two weeks ago, the rise was 7%.
The death toll too shows signs of falling, from 919 a fortnight ago to 542 fatalities in the past 24 hours. But Giuseppe Conte warned Italy not to lower its guard and said that the national lockdown, imposed on 9 March, could only be eased gradually.
"We need to pick sectors that can restart their activity. If scientists confirm it, we might begin to relax some measures already by the end of this month."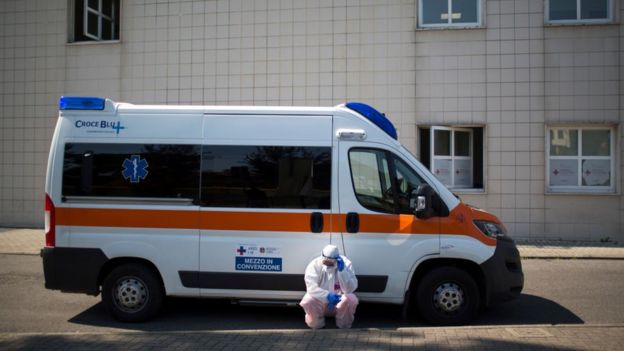 Mr Conte has won plaudits for his government's handling of the crisis – a recent poll by Demos showed his approval rating surging from 46% to 71%. But critics contend that the restrictions announced in the first few days were slow and piecemeal.
He initially resisted a push by some politicians in Lombardy, the northern region worst hit by the outbreak, to impose tighter measures more quickly. When a delegation from the Chinese Red Cross came to Milan in mid-March, they lambasted what they saw as Italy's lax lockdown.
But the prime minister defended his government's action.
"Going back, I would do the same", he said. "We have a completely different system to China. For us to severely limit constitutional freedoms was a critical decision that we had to consider very carefully. If I had suggested a lockdown or limits on constitutional rights at the start, when there were the first clusters, people would have taken me for a madman."