Anti-government marches in Hong Kong have ended in rioting, with attacks on government offices, a metro station and businesses with ties to mainland China.
Police used water cannon, tear gas and truncheons, reportedly removing masks from demonstrators they arrested, and a number of people were injured.
Tens of thousands of protesters had turned out in the rain, spurred to act by a ban on wearing masks at rallies.
The controversial ban was upheld by the High Court on Sunday.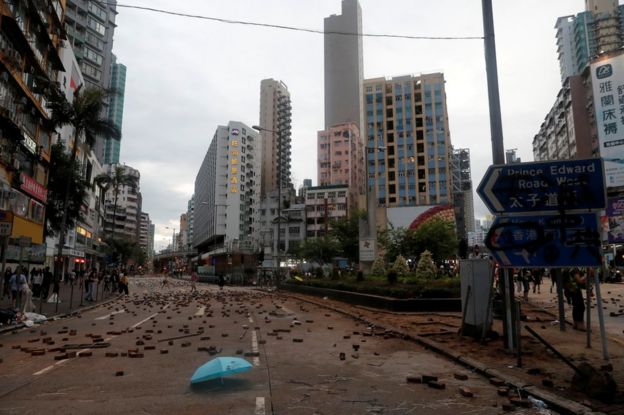 It was introduced by chief executive Carrie Lam who invoked powers dating back to colonial rule by the British.
Sunday's protests were fuelled by both the mask ban and the use by police of live bullets against protesters, which left two people injured this week.
A wave of rioting in Friday led city metro services to shut down but they had partially resumed on Sunday.
Demonstrators fear that democratic rights are being eroded in the semi-autonomous territory under Chinese rule.
What happened on Sunday?
The protesters' aim was to make clear their utter contempt for the emergency law banning face masks and almost all covered their faces, the BBC's Robin Brant reports from Hong Kong.
Police watched as protesters moved peacefully, chanting "Hong Kong resist" as they walked through the heart of the city, but after a few hours officers moved to end the disruption.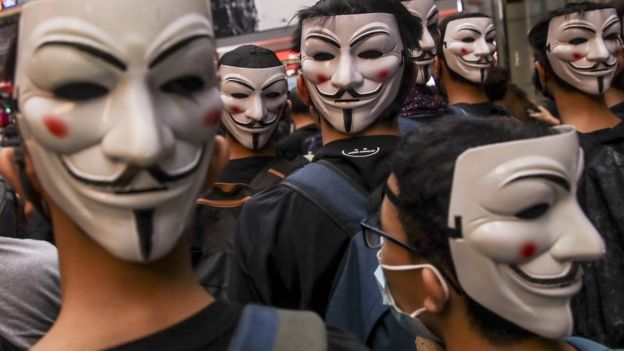 Tear gas canisters were fired on the crowd from police on walkway bridges above. Video shows small groups being targeted by charging officers on the ground.
Many shops were again closing early on Sunday evening in anticipation of more trouble, our correspondent says.
Among incidents on Sunday:
An entrance to the Mong Kok metro station was attacked with signs and windows smashed, and a lift set on fire
Rioters smashed their way into local government offices in the Cheung Sha Wan area
A masked protester briefly hijacked an excavator in an attempt to dig up the road in Wan Chai
A taxi driver was badly beaten in Sham Shui Po after reportedly driving his car into a crowd, injuring at least one person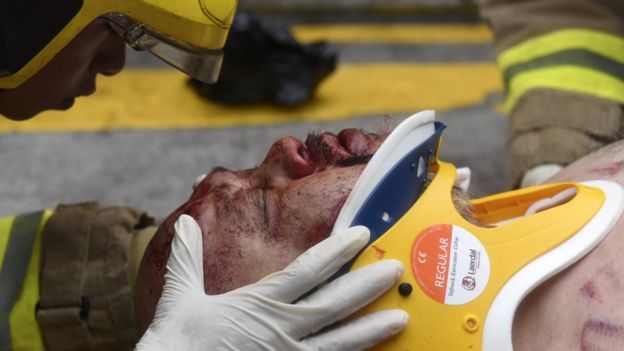 Many more people turned out for the new marches than on Saturday, when a small march was held in the aftermath of Friday's rioting.
"I'm not sure how many more chances we'll get to fight for freedom," said Hazel Chan, 18, who was wearing a surgical face mask when she spoke to the BBC near a road block on the city's Rodney Street.
"I don't think it'll have a big impact on the government's stance but I hope we gain international attention and show the world we won't get used to this evil law."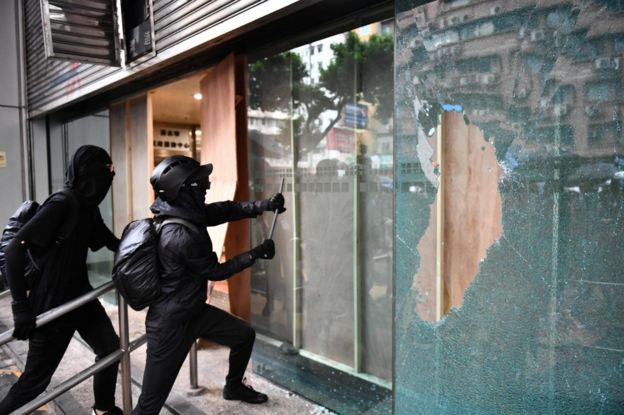 Fellow demonstrator Riley Fung, 19, said: "I don't have much confidence in protests because the government has ignored our demands even when millions came out."
But she continued to protest, she added, in order to express herself.