Prime Minister Benjamin Netanyahu has claimed victory in Israel's general election, with partial results putting him ahead of main rival Benny Gantz.
Exit polls suggest his right-wing bloc is on course to win 59 seats to become the biggest group but will still be short of a majority by two seats.
Nevertheless, Mr Netanyahu declared the outcome "the biggest win of my life".
Monday's election was Israel's third in less than a year, after neither leader was able to form a government.
With 90% of votes counted, Mr Netanyahu's Likud party has won 29.3%, compared to 26.3% for Mr Gantz's centrist Blue and White party.
Israel's longest-serving prime minister, Mr Netanyahu, 70, is seeking a record fifth term, having been in office from 1996 to 1999 and again from 2009.
The election took place two weeks before Mr Netanyahu is due in court to face corruption charges, which he denies.
How close is the race?
Initial projections after voting ended forecast 60 seats for the right-wing bloc, but this was later revised down to 59.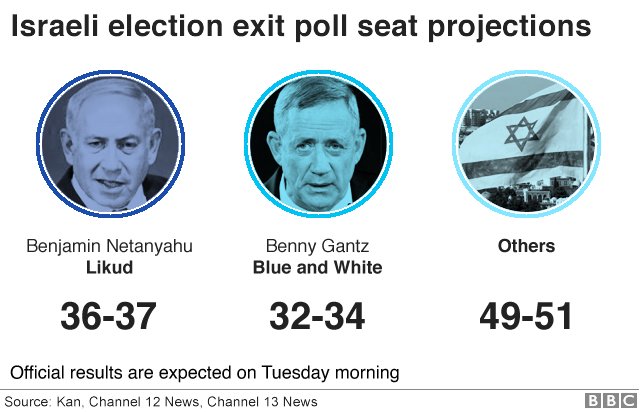 The opposition centre and centre-left parties are on course to win 54-55 seats, according to the exit polls.
The Joint List alliance, representing Israel's large Arab minority, is projected to get 14 or 15 seats.