The Grenfell Tower fire was a "preventable accident" caused by "years of neglect" by the local council and successive governments, Mayor of London Sadiq Khan has said.
After attending a service for victims, Mr Khan said the fire was a national disaster requiring a national response.
Kensington and Chelsea Council's leader said officials had been working "around the clock" since the fire on Wednesday.
The government says all those who lost their homes are to receive £5,500.
Each household will receive at least £500 in cash and £5,000 paid into an account as part of a £5m emergency fund first announced on Friday.
At least 58 people are believed to have died after the fire ripped through the 24-storey block in North Kensington in the early hours of Wednesday.
Police are expected to announce an increase in that number on Monday.
The BBC understands about 70 may have died. Eighteen people remain in hospital, nine in critical care.
Widespread criticism
Metropolitan Police Commander Stuart Cundy said: "I must consider the fact that there may be others in the building who, for whatever reason, have not been reported to us.
"There is also a real possibility that there may be people in the building that no one knows are missing."
Police have released images from inside the building to show the scale of the challenge they face.
Cdr Cundy said: "The conditions due to the fire damage verge on indescribable, which is why this will be such a lengthy operation taking weeks to complete."
Kensington and Chelsea Council has faced widespread criticism for its handling of the disaster, with residents complaining that officials had provided little support or information.
A group who met Prime Minister Theresa May at Downing Street have criticised the borough's tenant management organisation for being "invisible in the aftermath of the tragedy".
"We explained to the prime minister the anger of all residents towards the management of the estate over a long period of time, paving the way to this tragedy," they said.
Mr Khan echoed their point, saying: "People are angry, not simply at the poor response in the days afterwards from the council and the government, but at the years of neglect from the council.
"There's a feeling that the council and government don't understand their concerns and don't care."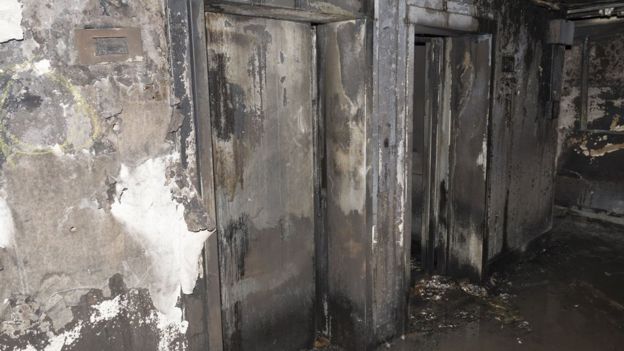 He added: "People in this community are sick to death of platitudes from politicians."
Kensington and Chelsea Council leader Nicholas Paget-Brown said he understood residents' anger and that the authority itself wanted to know why the fire had started and spread so quickly.
He added that the disaster was too big for one authority to handle alone and it was inaccurate to suggest his council was not present on the ground or working with other authorities.