A knife-wielding employee has killed three officers and one administrative worker at police headquarters in the centre of the French capital, Paris.
The attacker, who has not been named, was shot dead by police.
Witnesses described scenes of panic, with many people fleeing the building in tears. The area in the île de la Cité was sealed off.
The attack came a day after police went on strike across France over increasing violence towards officers.
The Paris prosecutor said a murder investigation had been launched.
A motive for the attack remains unclear. However, police union officials have suggested the attacker may have been involved in a workplace dispute.
What happened?
At about 13:00 local time (11:00 GMT; 12:00 BST), the attacker is said to have gone into the building and straight to his office where he began attacking colleagues with a knife.
He stabbed three people inside two offices and two women on a stairway, before he was shot dead by an officer inside the building's courtyard, according to French media.
Three men and one woman were killed, Paris prosecutor Remy Heitz told reporters.
A fifth person was critically injured in the attack, and was sent for surgery. The building is near major tourist sites including the Notre-Dame cathedral.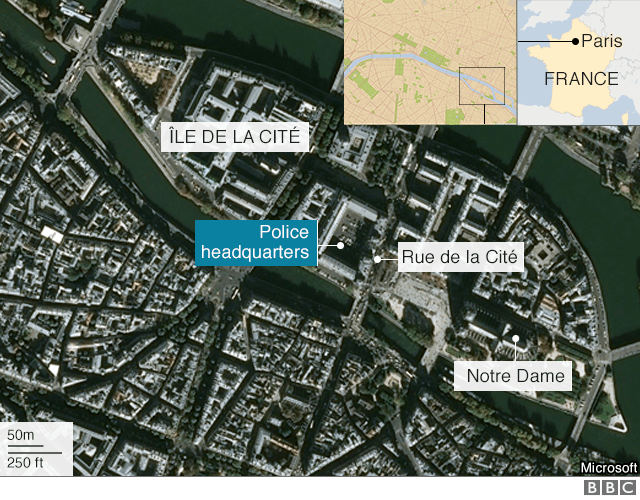 "Police were running around in panic," a witness who was inside the courtyard at the time of the attack told Le Parisien newspaper.
"I was surprised to hear shooting because this is not a place where you hear that kind of thing. I first thought it was a suicide because there are a lot of those at the moment," he added.
President Emmanuel Macron, Prime Minister Edouard Philippe and Interior Minister Christophe Castaner have all visited the site.