A court in Bangladesh has sentenced five men to death and one to life in jail for hacking a secular blogger to death six years ago in Dhaka.
Avijit Roy, based in the US and of Bangladeshi origin, was attacked with machetes as he left a book fair in the capital in February 2015.
It was one of a spate of attacks on secular figures, which were blamed on Islamist militants.
Roy, an atheist, had angered hardliners with his writings on religion.
His wife Rafida Ahmed was with him when the attack took place as they left the Dhaka University campus. She was critically wounded, but survived.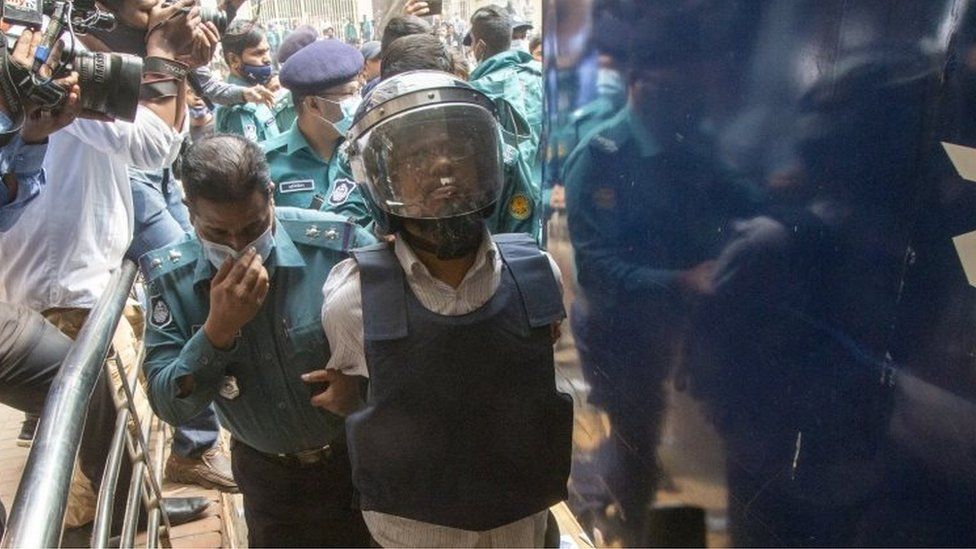 The assault was carried out by a banned group, Ansar al-Islam, which is believed to be linked with al-Qaeda, the court heard.
Two of the group were tried in absentia, including former army major Syed Ziaul Haque, who is accused of leading the attackers. He was sentenced to be hanged for murdering Roy, as were four others: Abu Siddique Sohel, Mozammel Hossain, Arafat Rahman and Akram Hossain, who along with Syed Ziaul Haque is still on the run.
Shafiur Rahman Farabi was given life in jail, after being arrested in March 2015.
In June 2016 police said they had shot dead the main suspect – a man they named as Sharif – in the killing of Roy in a gun battle near the capital.
"Charges against them were proved beyond any doubt. The court gave them the highest punishment," public prosecutor Golam Sarwar Khan said after the verdict outside the Special Anti-Terrorism Tribunal in Dhaka.
Lawyers for the defence plan to appeal.
Police believe the group were behind the murders of more than a dozen secular activists and bloggers. A string of deadly such attacks took place in Bangladesh between 2013 and 2016, and were blamed on groups inspired by al-Qaeda and the Islamic State group.
The deadliest attack took place on 1 July 2016, when 20 people were killed by gunmen who stormed the Holey Artisan Bakery in Dhaka. The café was popular with expats and wealthy locals, and many of the dead were foreigners.
The cafe siege prompted a major crackdown on suspected Islamist extremists. More than 100 suspects were killed in anti-terror raids and hundreds arrested.
Last week eight men – all said to be members of Ansar al-Islam, and including former major Syed Ziaul Haque – were sentenced to death for murdering publisher Faisal Arefin Dipan. He was found dead in his office in October 2015, apparently targeted because he had published books by secular writers, two of them by Avijit Roy.