Bolivia elections: Concern as results transmission pauses
Related Topics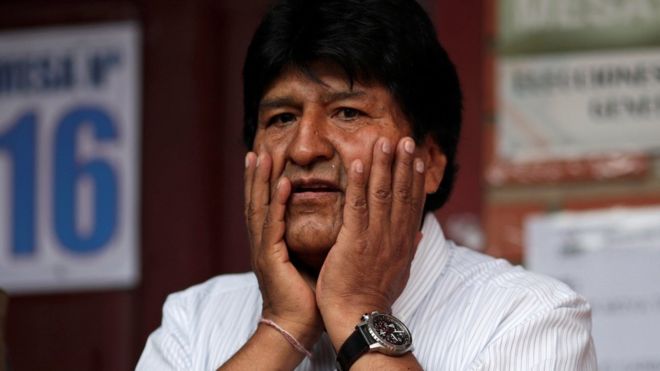 There is concern in Bolivia after the electoral authority stopped updating its website showing the preliminary results of the presidential election.
With almost 83.8% of votes verified, incumbent President Evo Morales led with 45.3%, leaving his main rival, Carlos Mesa, in second place with 38.2%.
The partial results suggest Mr Morales does not have the votes needed to win outright and will have to face Mr Mesa in a second round.
The run-off is scheduled for December.
What happened?
The site showing the preliminary results stopped being updated at 83.8% of the votes at 19:40 local time (23:40 GMT) on Sunday,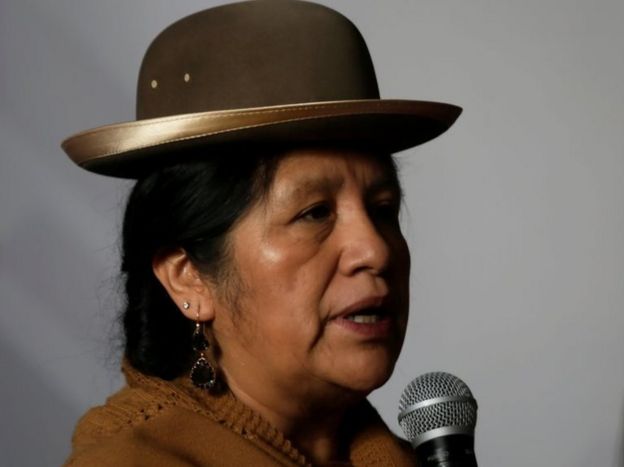 The failure to update the results caused immediate concern not just with opposition politicians but also with the regional body Organisation of American States (OAS) which has election observers in Bolivia.
The OAS tweeted in Spanish that it was crucial for Bolivia's Supreme Electoral Tribunal to explain why the transmission had been interrupted.
Tribunal president María Eugenia Choque said it had stopped the transmission of the preliminary results because the regional tribunals had started announcing the official results. "We can't have two sets of results at the same time," she said.
However, the official results have not yet been released.
What has the reaction been?
Mr Mesa said the interruption in the transmission of the results was "extremely serious".
"We're not going to allow the manipulation of a result that obviously puts us in a second round," Mr Mesa said in a video he published on Twitter (in Spanish).
Before the transmission was halted, Mr Mesa declared that he had achieved "an unquestionable victory which allows us to say with certainty that we've made it into a second round".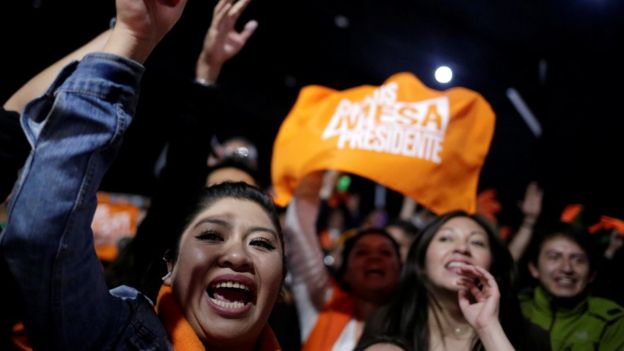 President Morales told cheering supporters he was confident that when votes from rural areas were counted there would be no need for a run-off.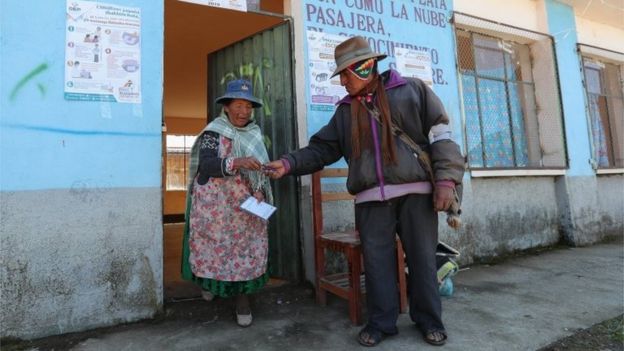 "The rural areas are going to keep guaranteeing this process of change," he said.
"That's why, sisters and brothers, we're going to wait until the last vote is counted to pursue and continue our process of change."
Why is the delay a problem?
Mr Morales is a divisive figure, praised for his social policies but criticised for challenging presidential term limits. He has won all his previous terms in the first round and so the prospect of this election going into a second round suggests he is losing support.
These were the most uncertain elections for Mr Morales, with many people angry with his insistence on running again, our correspondent Katy Watson in La Paz reports.
In a referendum in 2016, Bolivians rejected his suggestion to ditch the presidential term limits.
But his Movement for Socialism (Mas) party took the matter to the constitutional court, which ruled in the president's favour, allowing him to stand for a fourth term.
In order to win outright, a candidate needs 40% with a 10-percentage-point lead over his nearest rival or more than 50% of the vote
Mr Morales has been in power since 2006 and if he wins another term, he will be in power until 2025.