Jeremy Hunt has promised Boris Johnson "the fight of his life" as the two compete to become the next Conservative leader and PM.
Mr Johnson said he was "honoured" to get the backing of 160 MPs in the final ballot of the party's MPs – more than half of the total.
Mr Hunt got 77 votes – two more votes than the next candidate Michael Gove.
Mr Johnson and Mr Hunt now face a vote involving up to 160,000 Tory members, with a result due by late July.
All 313 Conservative MPs took part in the final ballot in the House of Commons, with one paper spoilt.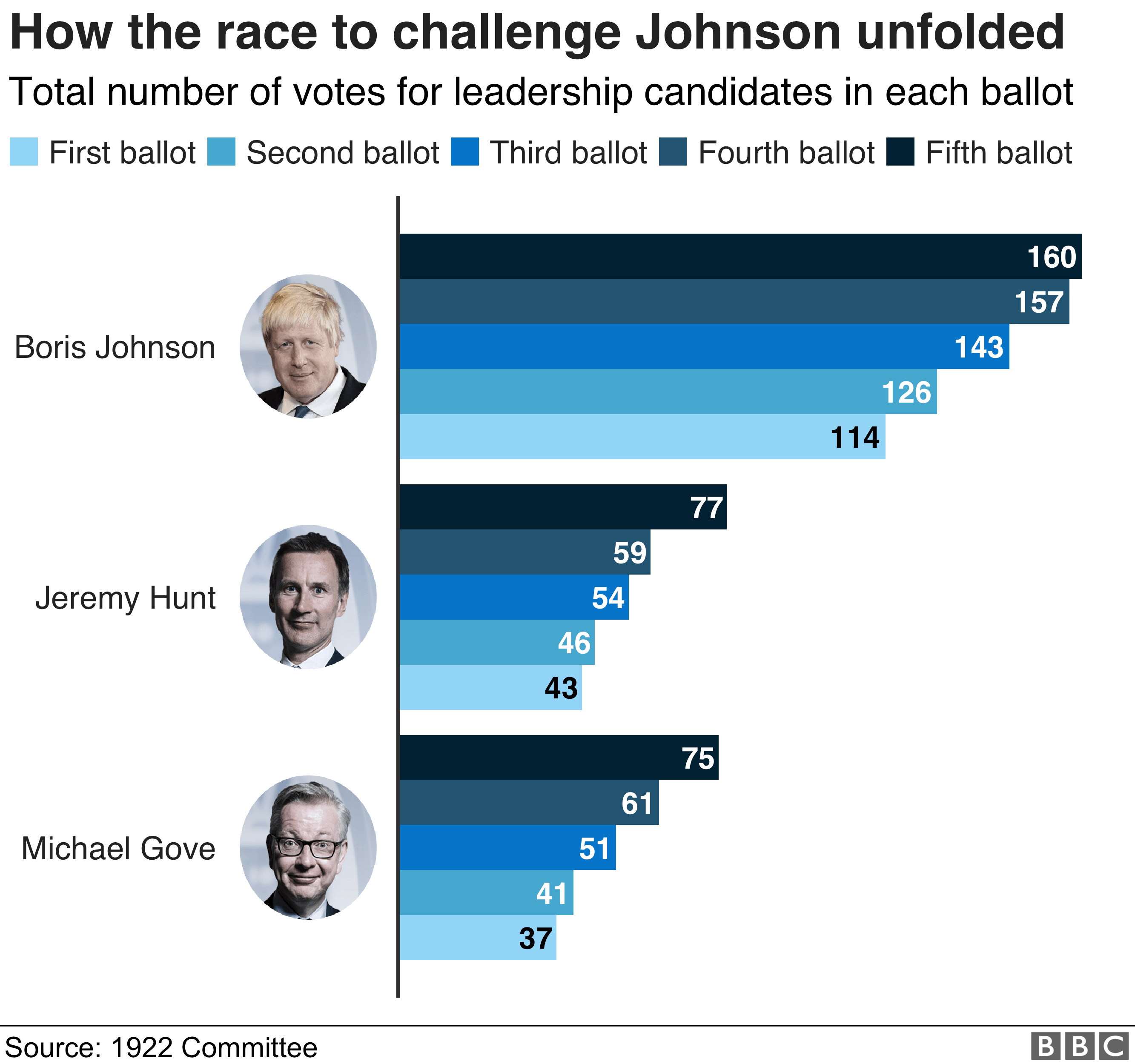 Mr Johnson's victory in the latest round of the contest had been widely expected, but Environment Secretary Mr Gove and Foreign Secretary Mr Hunt had been engaged for several days in a fight for second place.
In the penultimate MPs' ballot, earlier on Thursday, Mr Gove overtook his rival, only to see his lead reversed in the final vote.
Before the final vote, a source close to Mr Hunt warned against reigniting the "personal psychodrama" between Mr Gove and Mr Johnson – who spearheaded the Vote Leave campaign together in 2016, but fell out after Mr Gove abandoned Mr Johnson's previous leadership bid to launch his own.
Following the result of the final ballot, Mr Johnson tweeted that he was "deeply honoured" by his level of support.
Meanwhile, Mr Hunt, acknowledged Mr Johnson as frontrunner to become party leader and prime minister, tweeting that he was the "underdog" but in politics "surprises happen". 
He went on to praise Mr Gove as one of the "brightest stars in the Conservative team" and pledged to "give Boris the fight of his life."
Mr Gove congratulated his rivals and said he was "naturally disappointed but so proud of the campaign we ran".
His campaign manager, Mel Stride, said he believed that Mr Gove's admission that he had taken cocaine during the 1990s had damaged his bid, adding: "It stalled us and meant momentum was lost at that time."