Thousands of shops have reopened in Austria, as it seeks to ease restrictions brought in to stem the spread of the coronavirus.
Garden centres, DIY stores and small shops can open but with strict rules on social distancing.
In Italy, where over 20,000 people have died in the pandemic, a limited number of shops and businesses have been allowed to reopen.
But some of the worst-hit regions have decided to hold off.
Lombardy and other regions in the north will maintain their measures for longer.
After five weeks under lockdown, shops selling books, stationery and clothes for babies and young children can reopen their doors, but with strict rules on customer numbers and hygiene.
The European Commission has urged EU countries to co-ordinate with each other to relax measures gradually.
Fears of a deadly resurgence
An internal document sent by the Commission to EU governments said that even phased measures would "unavoidably lead to a corresponding increase in new cases".
Lifting restrictions had to wait for the spread of the virus to be reduced for a significant period, it said, with enough capacity in intensive care units to cope with a second surge in cases and increased testing, along with mass antibody tests.
Businesses, shops and schools should lead the way, followed by limited reopening of restaurants, bars and cafes.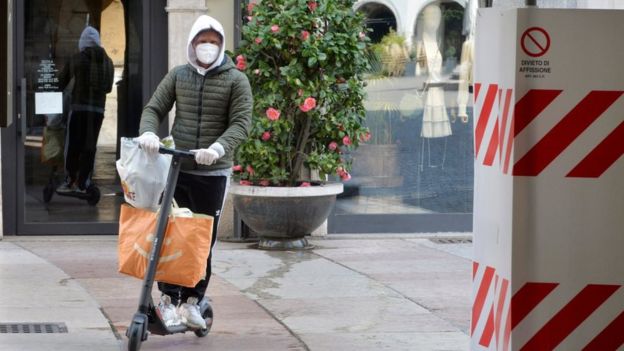 Spain has allowed some businesses to return to work, and Denmark is reopening schools for younger children. Poland has said it will gradually lift restrictions on its economy from Sunday, probably starting with shops.
Spain reported its lowest increase in infections since 20 March on Tuesday. There has been a 1.8% increase from Monday to 3,045. The number of deaths has gone up by 567 to 18,056.
President Emmanuel Macron extended France's lockdown for another four weeks until 11 May, as he said current restrictions had slowed the virus but not beaten it.
The head of Germany's Robert Koch public health institute said that while there had been a slowdown it was too early to talk of a clear trend.
The World Health Organization (WHO) welcomed the slowing down of infections in some European countries but warned against lifting restrictions too early, so as not to prompt "a deadly resurgence".
What Austria is doing
Austria was one of the first European countries to follow neighbouring Italy in imposing strict lockdown measures about a month ago, and the government says it has managed to flatten the curve of new infections. It has so far reported about 14,000 cases and 368 deaths.
Last week, Chancellor Sebastian Kurz unveiled plans to lift restrictions gradually.
In an open letter to the country on Saturday, he said he wanted to "come out of this crisis as quickly as possible and fight for every job in Austria".
From Tuesday, shops under 400 sq m (4,300 sq ft) in size are allowed to reopen, along with hardware stores and garden centres.
But it is also compulsory for people to wear a mask in supermarkets and pharmacies.
"Experience in countries that have handled it well has taught us that we have to move gradually," Economy Minister Margarete Schramböck told Austrian TV.