Deaths in England and Wales have nearly doubled above what would be expected, hitting a 20-year high.
The Office for National Statistics said there were 18,500 deaths in the week up to 10 April – about 8,000 more than is normal at this time of year.
A third were linked to coronavirus, but deaths from other causes also increased, suggesting the lockdown may be having an indirect impact on health.
But experts believe this period could well be when virus deaths peaked.
They point to a separate analysis by NHS England which showed since 8 April the number of deaths in hospitals have been falling when you look at the date of death.
The daily figures presented by government just show when hospital deaths are announced – there is often a delay in recording and reporting which masks when a drop in deaths starts happening.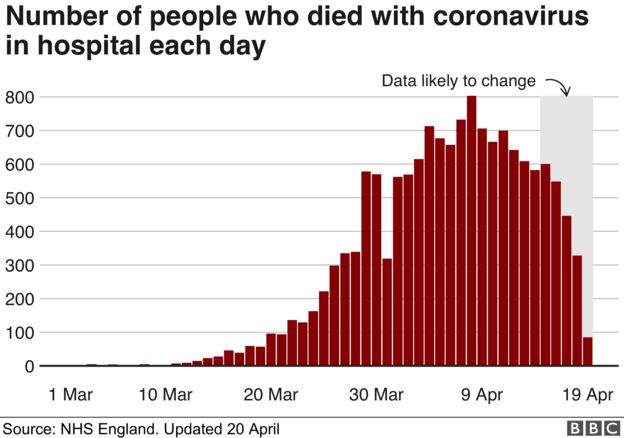 Prof Sir David Spiegelhalter, of the University of Cambridge, said the NHS England figures suggested we were past the peak and in a "steadily" albeit slowly improving position.
But he added: "Judging from the experience in Italy, this could be a lengthy process."
Prof Carl Heneghan, from the University of Oxford, said he agreed, saying London, which saw rapid increases earlier than the rest of country, peaked even earlier.
How bad was the 'peak'?
The figures presented by the ONS are different from those used by the government on a daily basis and the NHS England analysis.
Those rely on hospital cases confirmed by tests, whereas the ONS has used death certificates which show both fatalities in hospital and in the community on a weekly basis.
The figures show that the overall number of deaths topped 18,500. That is the highest since January 2000 when there was a bad flu outbreak.
It is also much higher than the recent bad flu season of 2015.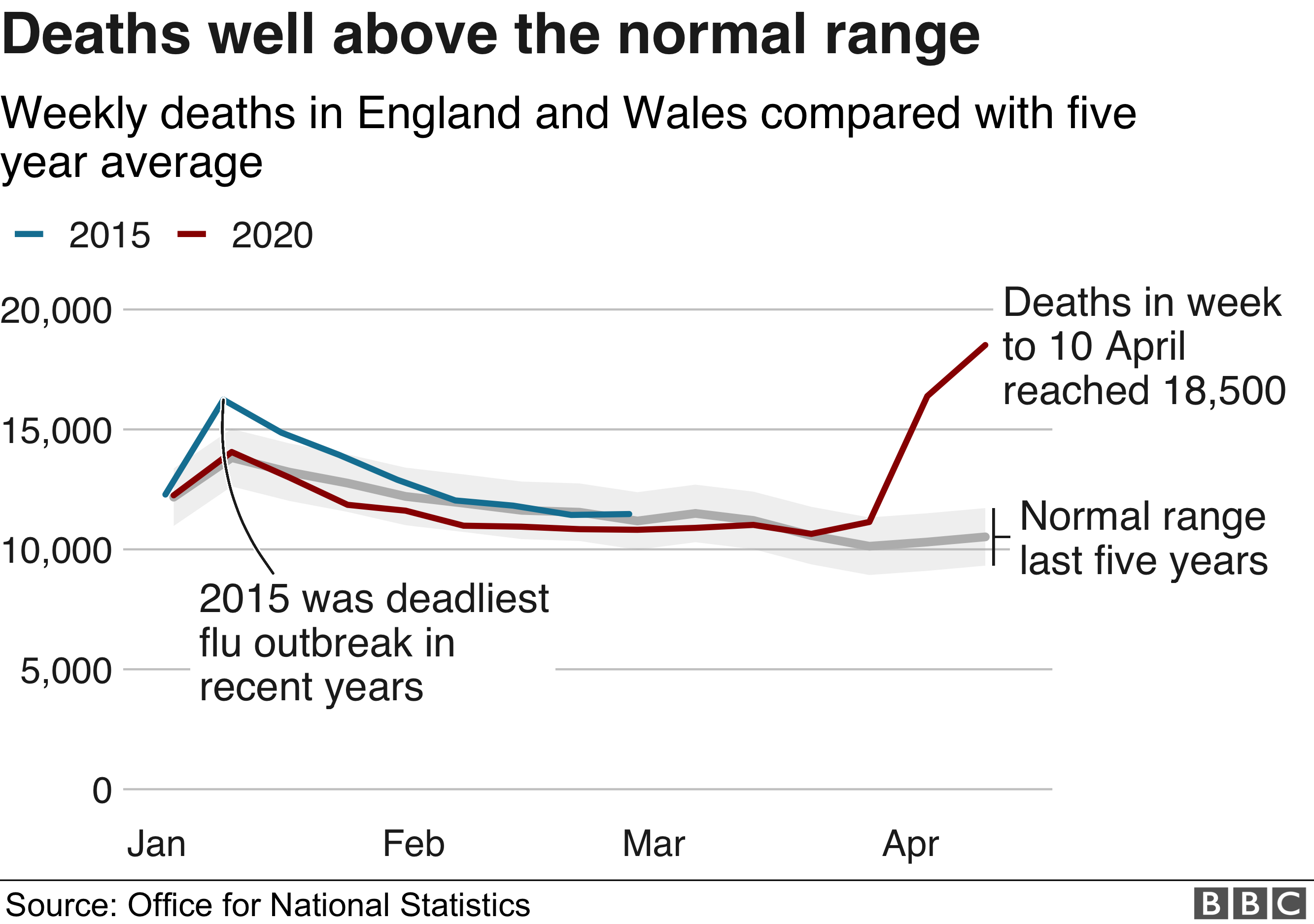 More than 6,200 of these deaths were linked to coronavirus and Covid-19, the disease caused by the virus. One in six of these deaths happened outside hospital.
But the ONS also said deaths from other causes rose too.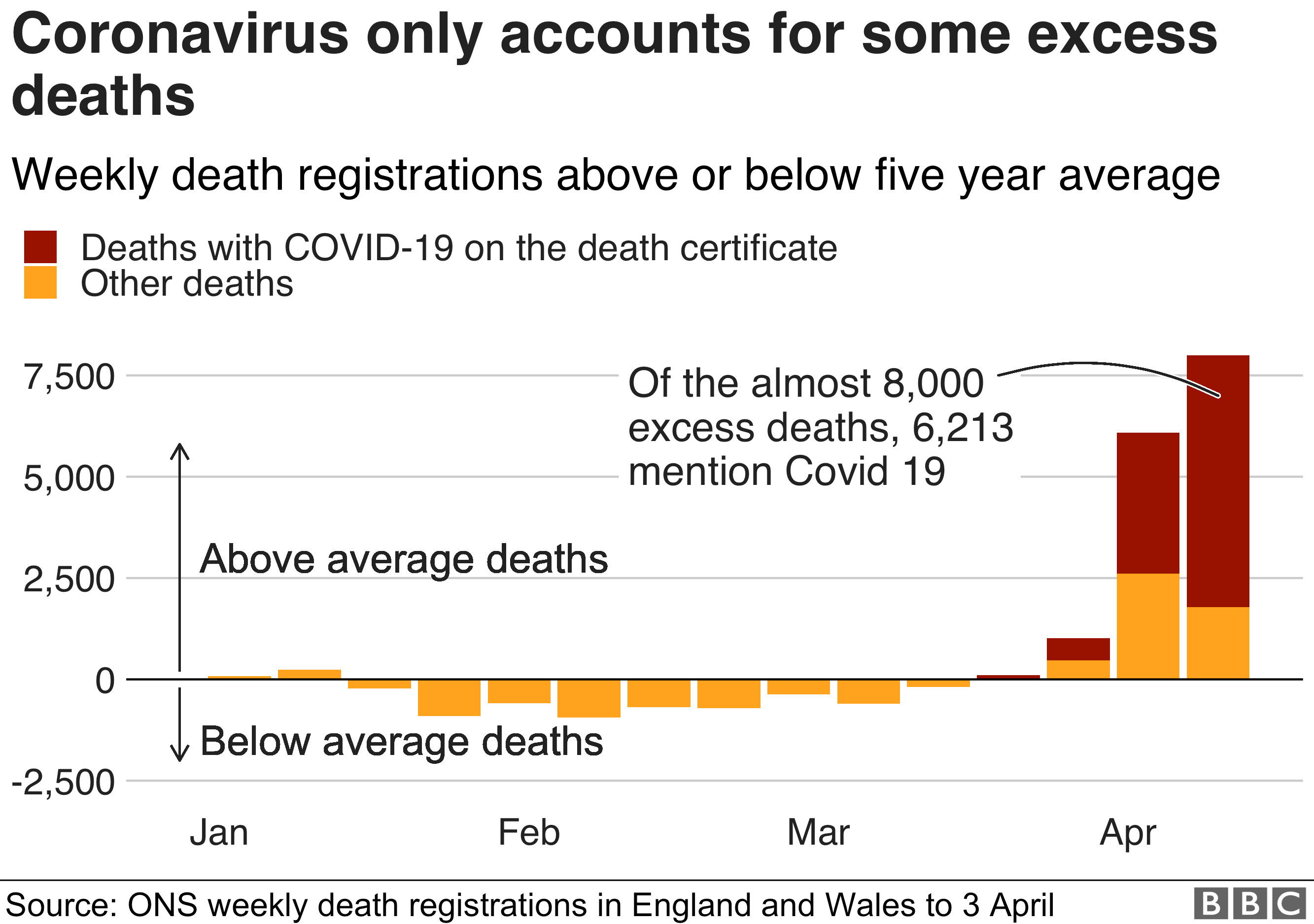 Nick Stripe, head of health analysis at ONS, said they were trying to understand and find out why this was.
He said it could be that people with other illnesses were avoiding going to hospital for treatment – visits to A&E have halved since the pandemic started – or an under-reporting of coronavirus.
But he added it could "take years to work out".
He also said it was important to remember the human toll in these figures.
"Each one is a person. Each one has a family. We must always remember this."
A similar trend is being reported in Scotland where there were nearly 2,000 deaths in the week up to 12 April.
Deaths in Northern Ireland are also up.