Several protesters have been arrested while trying to run from a Hong Kong university campus surrounded by police.
Around 100 people tried to leave the Polytechnic University, but were met with tear gas and rubber bullets.
In the past week, the campus has turned into a battleground as long-running anti-government protests become more violent.
A small number managed to successfully leave the campus using rope ladders before being picked up by motorcycles.
Meanwhile, Hong Kong's High Court ruled that a ban on protesters wearing face masks was unconstitutional. The colonial-era emergency law was invoked in October, but protesters largely defied the ban.
The violence is some of the worst seen during months of unrest in the semi-autonomous Chinese territory. The protests started over a controversial extradition bill, and have now evolved into broader anti-government demonstrations.
China has warned that "no-one should underestimate China's will to safeguard its sovereignty and Hong Kong's stability".
Its ambassador to the UK said the central government would not sit back and watch if the situation became "uncontrollable".
Hong Kong is a part of China, and the protests are, in part, about the fear that the special freedoms the territory enjoys as a former British colony are being eroded.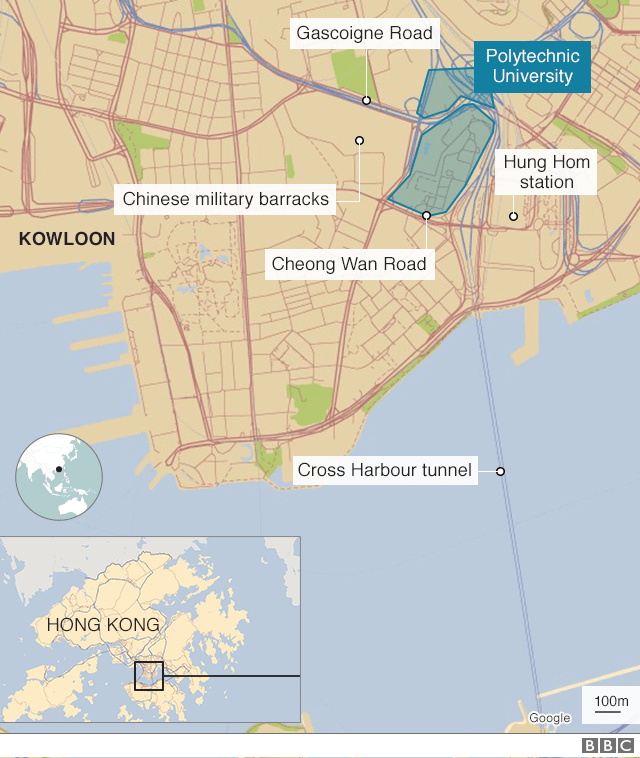 Hong Kong's government said the weekend's events had "reduced the chance" of district elections being held on Sunday as planned, public broadcaster RTHK reports. Postponing or cancelling the vote could further inflame the protests.
The UK has urged an "end to the violence and for all sides to engage in meaningful political dialogue" ahead of the elections.