At least six people have been killed as Hurricane Laura battered the US state of Louisiana.
Winds of up to 150mph (240km/h) caused severe damage, with power cuts to more than half a million homes and a chemical fire from an industrial plant.
But the feared 20ft (6m) storm surge was avoided as the hurricane, the state's biggest, tracked further east.
Laura has now been downgraded to tropical storm status.
It has since crossed into Arkansas. At 19:00 local time (00:00 GMT) on Thursday the National Hurricane Center said the storm had weakened to maximum sustained winds of 40mph (65km/h), but was still bringing heavy rainfall.
Louisiana Governor John Bel Edwards said the state "did not sustain and suffer the absolute, catastrophic damage that we thought was likely," but stressed they had still suffered "a tremendous amount of damage" and warned people to remain vigilant.
President Donald Trump was briefed at the Federal Emergency Management Agency (Fema) in Washington and said he would go to the area at the weekend.
He said he had been prepared to postpone his speech at the Republican National Convention later on Thursday to travel to the region but added: "We got a bit lucky. It was very big and very powerful but it passed quickly." The president will visit the states affected at the weekend.
Laura and another storm, Marco, earlier swept across the Caribbean, killing 24 people.
What's the latest from Louisiana?
At least six people are known to have died after the storm crashed into the US, Gov Edwards told reporters.
Of those, four were killed by falling trees. One man drowned in a boat that sank and another died of carbon monoxide poisoning from a generator in his home, authorities said.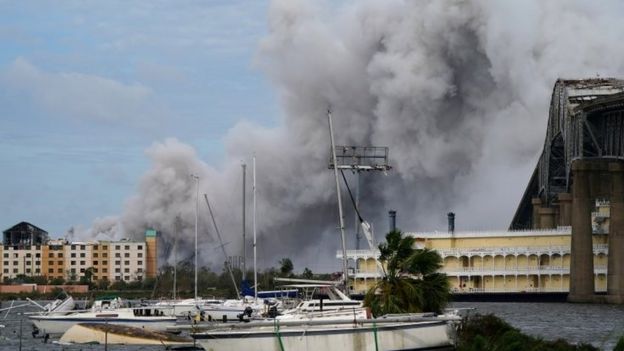 There was more structural damage from winds than anticipated, but the water damage was less than feared.
Nearly 900,000 homes and businesses lost power as the storm hit the US.
A barge had collided with a bridge in the city of Lake Charles, quite close to where a suspected "chlorine chemical fire" at an industrial plant was being attended by emergency services.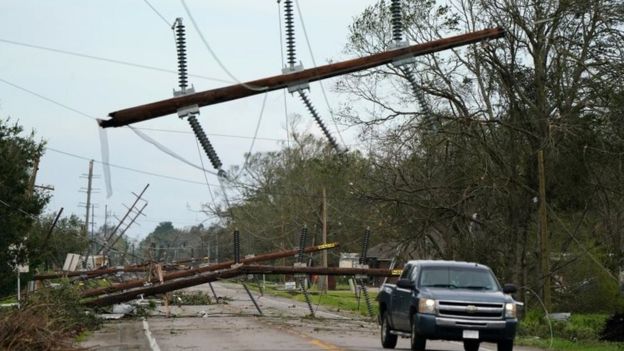 Mr Edwards said people should stay off the roads where possible, as outer bands of the storm were still causing high water levels and winds.
Some 1,500 people, including National Guard troops, are being deployed in rescue and clean-up missions.
Vice-President Mike Pence, who joined Mr Trump at Fema, said: "While this was a major storm with devastating impact it was not as bad as it could have been."
Where did Laura hit and what's its path?
It was one of the strongest to ever hit the US Gulf Coast, striking as a category four with winds of up to 150mph (240km/h).
Governor Edwards said it was even more powerful than Hurricane Katrina, the 2005 storm that devastated New Orleans and killed more than 1,800 people.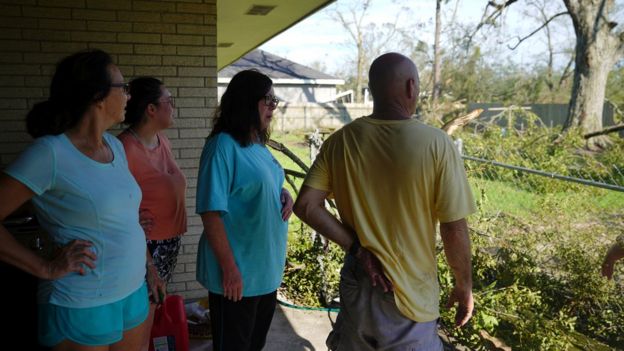 It made landfall shortly after midnight local time (05:00 GMT) near the district of Cameron, in Louisiana. It tracked north, just east of the Texas-Louisiana border.
As yet, there have been no casualties confirmed in Texas. Governor Greg Abbott toured the area hit by the storm with the US Coast Guard on Thursday, and said the state was "ready to help communities rebuild".