A survivor of the Nigerian "torture house" raided by police has described being there as "living in hellfire".
"If you are praying they will beat you. If you are studying they will beat you," Isa Ibrahim, 29, told the BBC.
Nearly 500 men and boys were rescued from the building in Kaduna, which was being used as an Islamic school and correctional facility.
The police said it was a place of human slavery, with many detainees found in chains.
Some of the victims had been tortured and sexually abused, the authorities say.
The BBC's Ishaq Khalid, who visited the building in northern Nigeria, says there are concerns that similar abuse may be occurring in other such institutions.
Many families in this mainly Muslim part of the country can't afford to send their children to school and those that can often enrol them in poorly regulated institutions like this one, he says.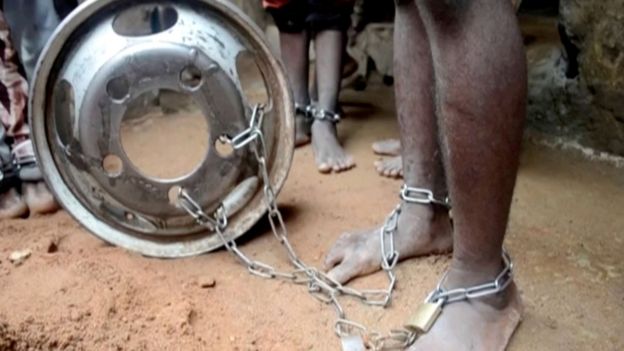 A sign on the front of the building describes it as the Ahmad bin Hambal Centre for Islamic teachings but it was also used by some as a place to reform young men with behavioural problems.
Kaduna state police spokesman Yakubu Sabo said the "dehumanised treatment" they discovered made it impossible to consider it an Islamic school, Reuters news agency reports. It was not registered as either a school, or a correctional facility, although it did charge fees to parents.
Seven people, including some staff, have been arrested. The government says it will investigate other institutions which purport to provide Koranic studies.
There have been numerous reports of abuse at Koranic schools across northern Nigeria, with students sometimes forced to spend their days begging on the streets.
Isa Ibrahim's ordeal
Mr Ibrahim said he was sent to the centre two weeks ago by his family, apparently to "correct his behaviour".
He said he had tried to escape the day before the police arrived.
He described being chained up to an old generator and also being subjected to a particularly cruel punishment, known as "Tarkila", where his hands were tied up and he was left hanging from the ceiling.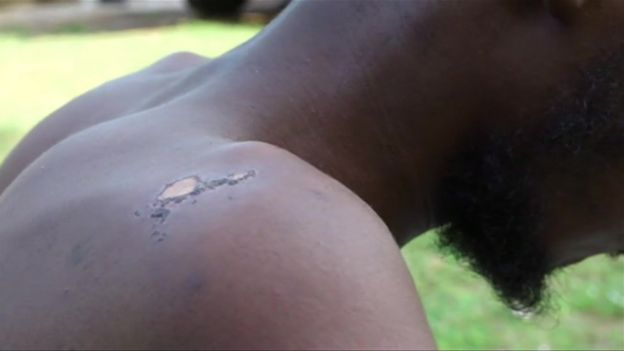 "I have many injuries. Almost all parts of my body have injuries," he said. "Even if you are sleeping – they'll use [a]cane to wake you up."
He said he had been starved and was only given plain rice to eat. People kept at the centre "lose all of our energy", he added.
Children as young as five were among those rescued from the institution, which is believed to have been operating for several years. Most of the inmates were from northern Nigeria but two were reportedly from Burkina Faso.