The UK's top share index is facing its worst day since the financial crisis after it fell 8% in early trade, wiping billions off the value of major firms.
The drop follows global falls as a row between Russia and Saudi Arabia saw oil prices plunge by more than a fifth.
Shares were already reeling from fears of the impact of the coronavirus as cases globally continue to rise.
The day has already been dubbed "Black Monday" by analysts who described the market reaction as "utter carnage".
The FTSE 100 index fell more than 8% in the first few minutes of trade, before recovering slightly to stand 6% lower.
Oil prices are down more than 20% with Brent crude trading at $35.98 a barrel.
"It shows a level of nervousness in the market which I haven't seen in a long time," said Justin Urquhart-Stewart, co-founder of Seven Investment Management.
Investors are selling stocks at such a rate because they cannot quantify what Saudi Arabia and Russia might do, he said.
The hefty falls were also seen elsewhere in Europe, with stock markets in France and Germany opening 7% lower. Norway – a major oil exporter – saw its main stock exchange fall 12% in early trade.
Among the fallers:
Oil firms saw the biggest falls in London, with shares in Shell and BP both down by about 15%, while Premier Oil saw its shares more than halve in value
Miners also saw steep declines, with De Beers owner Anglo American and BHP Group all down more than 10%
In Frankfurt, Deutsche Bank led the declines, falling 12%, followed by Mercedes-Benz maker Daimler, down 10%
Similarly in Paris, banks such as Crédit Agricole and Société Générale fell 10%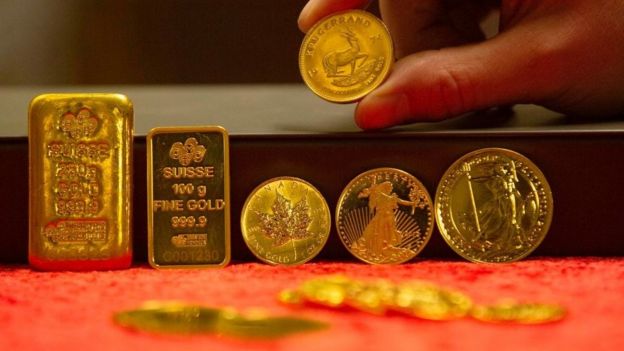 Among the winners:
Gold earlier hit $1,700 per ounce, a seven-year high, but fell back to $1,677.
Two-year UK government debt gained enough for its yield to be negative. In other words, investors won't recoup all their money once all the coupons have been paid. In-demand Swiss and European debt sometimes has negative yields.
Earlier on Monday, Asian markets had fallen sharply, with Japan's Nikkei 225 index down 5% while Australia's ASX 200 slumped 7.3% – its biggest daily drop since 2008.
In China, the benchmark Shanghai Composite fell 3%, while in Hong Kong, the Hang Seng index sank 4.2%.
As well as the slump in the oil price, Asian investors also reacted to a steep fall in Chinese exports, and figures showing the Japanese economy shrinking at a faster pace than expected.