President Donald Trump has defended his use of the term "mission accomplished" amid criticism following US, UK and French air strikes on targets in Syria.
He accused the "fake news media" of seizing on the term to demean the strikes, carried out in response to an alleged Syrian chemical weapons attack.
President George W Bush was ridiculed for appearing in front of a banner carrying the term during the Iraq war.
Russia and Syria insist no chemical attack took place on 7 April.
They have said the attack in Douma, in the Eastern Ghouta area near the capital, Damascus, was staged.
Inspectors from the independent Organisation for the Prohibition of Chemical Weapons (OPCW) are now in Damascus. They have met Syrian officials and are expected to visit Douma soon.
US envoy to the UN Nikki Haley has said that new sanctions will be announced on Monday against Russian companies with links to Syrian President Bashar al-Assad.
Why is 'mission accomplished' controversial?
Mr Trump used the term to conclude a tweet on Saturday morning following the overnight attacks, after hailing the strikes as "perfectly executed" and thanking the UK and France. President Bush's former press secretary Ari Fleischer was one of those who said it was not to be advised. But Mr Trump fought back on Sunday, saying he knew the "fake news media" would seize on it but used it anyway as it was a "great military term".
The phrase had been on a banner as Mr Bush declared the end of "major combat operations" in Iraq in May 2003, six weeks after the US-led invasion of the country.
The following Iraqi insurgency, which dragged on for years, led to widespread ridicule of the term.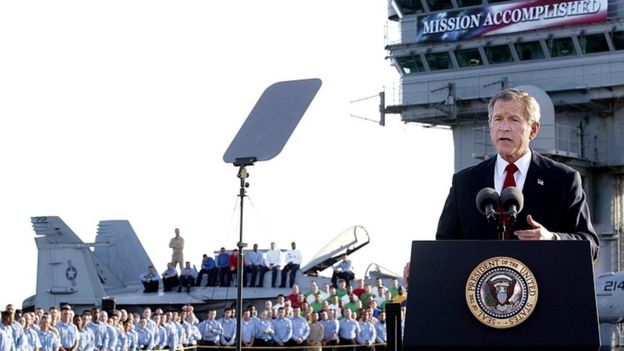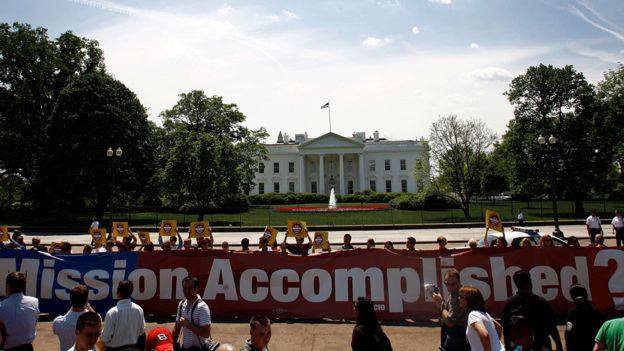 Ex-Assistant Secretary of State PJ Crowley said the use of the term at that time "represented a serious misreading of the challenge" in an article for the BBC, adding: "But Syria isn't Iraq. It's actually much more complicated."
What is happening in Douma?
The OPCW inspectors met Syria's Deputy Foreign Minister Faisal Mekdad and Russian officials for about three hours in Damascus on Sunday and are expected to begin work in Douma later.
The Syrian army announced on Saturday that Douma's Eastern Ghouta region had been cleared of the last rebel fighters and was fully retaken.
The inspectors will investigate the site of the alleged chemical attack, which the Western allies believe killed dozens of people with the use of chlorine gas and possibly Sarin.
The Russians say there is no trace of any chemicals and questioned why the allies carried out strikes before the inspectors had reported. Russia says the attack in Douma was staged, accusing the UK of orchestrating it.
The OPCW will not seek to establish – and publicly announce – who was responsible for the attack.
The UK, US and France have said the Syrian government was responsible.