Six Turkish soldiers have been killed and nine wounded in shelling by Syrian government forces in Syria's north-western Idlib province, Turkey said.
It said up to 35 Syrian troops had been killed in retaliatory fire. Syria's media said there were no casualties.
Hundreds of thousands of people have fled an offensive by Syrian troops and their Russian backers against the last opposition stronghold in Idlib.
Many have moved towards the border with Turkey, which supports the opposition.
Turkey and Russia – a key ally of Syrian President Bashar al-Assad – signed a de-escalation deal for Idlib in 2017, but it has been frequently violated.
What did Turkey say?
Speaking to reporters on Monday morning, Turkish President Recep Tayyip Erdogan said 46 Syrian "regime targets" had been hit by the Turkish military.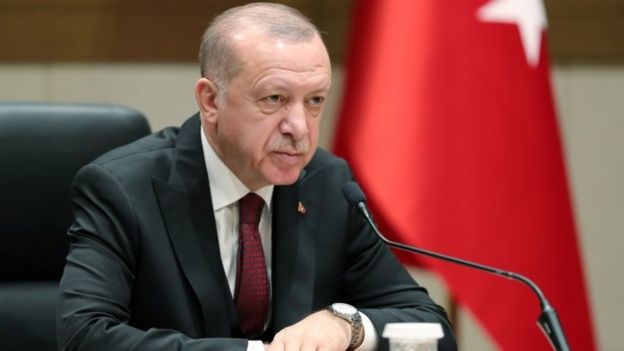 He said that "30-35 Syrians on the other side have been neutralised [killed].
"Those who question our determination will soon understand they made a mistake," Mr Erdogan said.
He warned Russia not to get involved in Ankara's dealings with Damascus over the shelling, telling Moscow "not to stand in our way".
Turkey has previously said its troops were in Idlib to prevent clashes there, and that their positions were being co-ordinated beforehand.
Mr Erdogan warned last week that Turkey would respond militarily if its soldiers in the region were threatened in any way.
How has Syria reacted?
Syria's Sana state news agency said that "no injuries or damage were reported" in the Turkish strikes.
It said Syrian government troops were continuing their offensive in Idlib, "liberating" several villages in the province.
Meanwhile, the Syrian Observatory for Human Rights, a UK-based monitoring group, reported that six Syrian soldiers were killed in the Turkish strikes.